Do you know that hundreds of people have websites but have no idea how to optimize them or how to do keyword research for a search engine? And this is when the process of keyword research comes into play.
SEO is built on a foundation of keywords. No amount of SEO work will increase your site's visibility on Google if no one is interested in the topic you're covering.
That's why learning how to perform good keyword research is important to your SEO campaign's success. The risks are too great to take chances. If you choose the wrong terms, you could waste time and effort.
How to do keyword research for a search engine, and why is it important?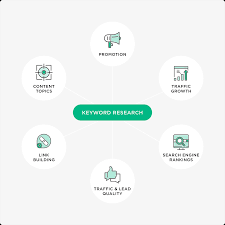 Doing keyword research is how businesses learn what people in their target market put into search engines like Google when looking for the goods and services they offer. Therefore, how to do keyword research for a search engine? Google won't send you any visitors to a website if it's about a topic nobody is interested in reading about (or other search engines).
That's a common blunder made by website owners, and it's a big reason why Google sends zero visitors to 90.63 percent of all websites.
By conducting keyword research, you can ensure that people are interested in reading about your chosen topic. If your page achieves a high Google search rating, then understand how to do keyword research for google ads for the target SEO keyword. You can expect an ongoing flow of highly qualified leads.
Tips for Brainstorming Keywords
One of the first steps of how to do keyword research for a search engine is to put oneself in the customer's position. In what ways might they use those words and phrases to discover answers to their questions? To uncover more keywords like this, plug them into the best keyword research tool.
It's not hard to do, but there are two requirements for success:
Possessing in-depth expertise in your field
The ability to use keyword research tools effectively
1- Make use of tools to find keywords
Keyword ideas can come from your competitors. But, likely, your competitors haven't yet used many of the keywords you want to use. You can use the keyword research tool for free to find these.
All of the tools and how to do keyword research for a search engine work similarly. You put in a seed keyword based on that keyword. They grab keyword suggestions from their database.
Here is the list of some popular yet effective google keyword research tools
SEMrush: It is like having the Swiss Army Knife of search engine optimization tools all in one place. SEMrush doesn't generate a list of keywords but recommends 5-10 highly targeted keywords that your competitors are currently using.
The KWFinder: This platform allows you to identify keywords that are easy to rank in SEO quickly. It also has a lot of other advanced features.
Google's Keyword Planner: It is a good alternative if you're looking for a primary keyword tool. Although google keyword planner is not very useful, it's one of the most reliable places to find keyword data.
Keyword Tool: Try this if you can't get enough keyword data mining. The platform is thought to be one of the best keyword research tools on the market. It can analyze data from Google, YouTube, Bing, Amazon, and the App Store, among others.
Keywords Everywhere: As a premium keyword research tool, it ranks the top 10 websites (including marketplaces like eBay and retail giants like Amazon and knowledge base sites like Answer The Public) and presents keyword data for each.
2- Seed-keyword brainstorming
The first thing for effective keyword research is identifying suitable seed keywords. In doing so, how to do keyword research for a search engine? It helps you determine your niche and competition. Any keyword generator requires a seed keyword before producing meaningful results (more on that shortly).
Coming up with a list of keywords and seed keywords is simple if you already have a product or business you want to advertise online. Think about the search terms people would use if they were looking for what you sell online.
For Example, if you are targeting food, seed keywords are Healthy food, Low-Fat food, Food Recipes, etc.
Keep in mind that seed keywords by themselves may not warrant optimizing pages. As their name implies, they will serve as "seeds" in the succeeding processes. Locating them should take no more than a few minutes.
3- Techniques for Keyword Research
It's great to access a database with millions of potential search phrases. However, it's not always obvious which options are ideal. After all, it's a monumental undertaking to go through them all manually.
The solution is straightforward: use SEO data for whittling down your keyword generator options and pick the best ones.
To that end, let's look at five different keyword analytics.
A) Keyword Difficulty
SEO experts with a lot of experience usually manually figure out how hard it is to rank for each keyword. Moreover, still, finding how to do keyword research for a search engine? That is, by looking at and analyzing the search results for each keyword. They look at a lot of different things to figure out how hard or easy it will be to rank:
Search goals
Content that is deep, relevant, up-to-date, and authoritative.
Backlinks (and how good they are)
Domain Score
SERP has these
B) CPC
Ads for a specific keyword will typically have a higher CPC if the advertisers are ready to pay more for their placement there. Although it is more of an advertising measure than an SEO, CPC can be a good indicator of a keyword's potential earnings.
C)Search Volume
Search volume identifies how often a keyword is looked up each month. The search volume metric is important to know four things about:
It's not how many people searched, but how many searches.
It's not equal how many clicks you'll get if you rank for it.
Assuming a yearly average
Restricted to one nation
4- Keyword targeting: how to do it
When conducting how to do keyword research for a search engine, determining the type of website that will provide the most opportunity for high rankings is crucial. In addition, if you can use that website to target multiple relevant keywords, all the better simultaneously. Also, you may make a few extra pages focusing on specific keywords.
Let's look into the methods used to make those assessments.
To organize huge word lists into manageable "topical clusters," the Parent Topic feature proves invaluable. On the other hand, we don't think you should take it at face value.
Analyze the reason behind the search.
Presumably, Google has some methods for determining the precise information users seek in response to a given query. In addition, the most relevant page to the user's search will rise to the top of the list. Looking at the most popular results is one technique to deduce the meaning of a keyword search.
There are both pages with information and online shops here. In SEO, this is called broken search intent. Either of the two-page types could help you rank for this keyword.
But finding the correct search intent doesn't end with finding the right page type for a question. Ideally, you should take into account the following:
Type: For instance, blog post, the home page, category section, landing page, online tool, etc.
Format: For Example, guide, listicle, news story, review, comparison, etc.
Angle: That's your take on a specific subject.
5- The art of keyword prioritization
The process of how to do keyword research for a search engine, prioritizing your list of keywords, and selecting where you should concentrate your time and energy first is the most subjective, time-consuming, and challenging component of keyword research.
Too many factors must be taken into account.
What do you think this keyword's potential pageviews are?
Can you describe the level of difficulty in making a ranking? Is there anyone else out there that you have to beat?
How much work is involved in making the ideal page? Perhaps you already have one, and it just needs tweaking.
What's this keyword's business value? For what benefit would you strive to achieve prominence in search results for this term?
Last but not least, it is a crucial consideration. You need to consider how much it will help your business if you rank for this phrase and the apparent factors like search volume, traffic potential, ranking difficulty, and search intent.
Conclusion
Now you know every little detail you'll ever want to know how to do keyword research for a search engine like an expert is now at your fingertips. I'm confident that you'll make excellent SEO choices with this information in hand, even though the process itself is highly subjective and differs greatly from person to person.